Welcome to the Garden Blog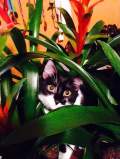 Welcome to the blog!

I hope you will to take a moment and look at our website. Feel free to use the contact page if you have any questions regarding landscaping or plants.

I am pleased to be able to do this blog and hopefully expand your knowledge of landscaping, plants and industry trends. The purpose of this blog is to expand on topics that might interest you.
Each blog will be done on individual topics such as;
*specific plant types,
*styles of gardening,
*new containers and landscape materials,
*topics of interest for South Florida
Occasionally I will feature a guest blogger, pictures of beautiful plants and landscapes, or information about other niches of the plant world that might interest you. This is a casual, fun look into the world of a southern garden and I hope you will enjoy your time there.
I invite you to follow my blog and enjoy the information I will share.
Sincerely,
Vicki L Williams
Owner, Botanical Concepts
There are no entries to display