Indoor Plant Design and Care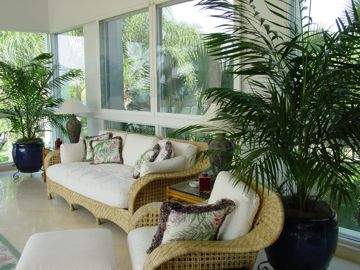 Natures beauty is brought inside for your enjoyment: Lush tropical palms, orchids & bromeliads rich with color, and foliage of mixed textures and shades of green all creates interior environments that you will be sure to love.
We offer indoor plant design, installation and plant maintenance.
We will design to meet your needs: accent a view or work of art, create a focal point, camouflage a flaw or even help establish traffic flow patterns.
Use of plants in your interiors add the benefits of beauty, color, healthy air, increased productivity, noise reduction, serenity and personal enjoyment.
Plants and containers are selected to work best with your decor. Only the best of local and industry top growers are used in our installations. Containers can range from ceramic, wicker, metal and clay. Alternatively, we can work with materials that you have on hand: we don't limit our designs to traditional containers. All work is done with care to protect your home or office.
Our Guaranteed Plant Maintenance Service will keep your plants healthy and always looking their best. Service at your site is completed in a professional manner, with any individual needs taken into consideration.